People think I learned everything I know about jewelry since I married my husband. They would be wrong. Every woman in my family has been afflicted, possibly since
birth, with incurable blingaholism. I am no different. I have been buying, wearing and loving jewelry since I got my first job. One of my favorite designers is Carolyn Pollack.
I first discovered Carolyn's work when she made her debut on QVC, a line called Sincerely Southwestern. It was not your typical Southwestern jewelry. She used a lot of
the traditional southwestern stones – turquoise, red coral, spiny oyster, and sterling silver, but her designs had more heart designs, vines, and other more feminine
elements than the typical Native American symbols and motifs. These pieces were pretty, but I didn't start collecting her jewelry until she started doing her own original
designs.
My favorite pieces have a lot of very intricate silver work. Many have hearts, but they all have delicate filigree. There is no place on the pieces you can look where you don't see some kind of detail. And nothing is flat. The pieces are shaped nicely, so you can see all of the detail in the piece from every angle. Almost all of
her pendants are enhancers. This is a nice detail because they can be worn on large bead necklaces, any type chain you can think of or any size leather cord. Many of her pendants look equally nice on a chunky silver chain as they do on a strand of fine pearls.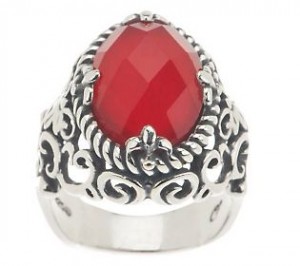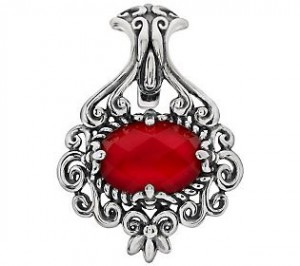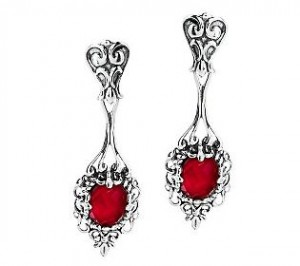 I have a set made with red coral and quartz doublets – earrings, an enhancer, and a ring – that looks like someone pulled them out of a tattered leather box on the Antiques Roadshow. It is one of her most popular suites on QVC because they are so unique and beautiful. The combination of the coral and quartz results in a stone that is the most amazing shade of red. They have the color of a deep red Indian ruby, the sparkle of the most expensive Burmese ruby, but the price of coral and quartz. Most of Carolyn's pieces are very big and bold, and these are not. The size of the stones is similar to the usual sizes of very fine gemstones, not the large stones she usually uses. The size is perfect for
the color. If they were huge stones, they would look gaudy and fake. The silver detail is amazing. It is a delightful combination of hearts, flowers, vines and rope. All the pieces have the same details, but are done in such a way that none of them are exactly the same.
I have an amethyst bead necklace with a removable flower design enhancer that I loved because it reminded me of the pearl necklace I wore for my wedding. My favorite thing about that piece is it is very much a day to evening piece. The bead strand can be worn with a T-shirt and jeans, the enhancer can be worn on a long chain over a turtleneck or sweater, or they can be worn together with a little black dress.
The pictures don't do these pieces justice. The sides of the enhancer are curved, which balances the pendant with the large bail on the back so it lays perfectly. It has a very large bail that can accommodate a large bead strand or very heavy chain. The earrings curve forward around the stones. This detail shows off the silver work from every angle as they hang on the ears. They are not flat, and that makes them more interesting.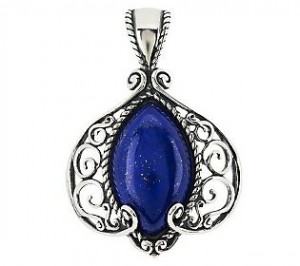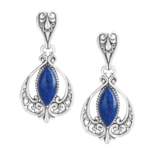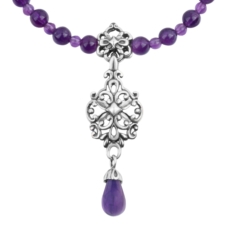 If you are ever in Santa Fe, you have to visit her store at the
outlet mall. I loved her store in Albuquerque, because I could see and try on her QVC pieces, but the Santa Fe store has some of the coolest and most unique pieces in her collection. You will not find these pieces anywhere else because they are either one of a kind, prototypes of her QVC designs, discontinued items, or pieces they couldn't make enough of for QVC. I have to be careful, because I always find something I have to have.