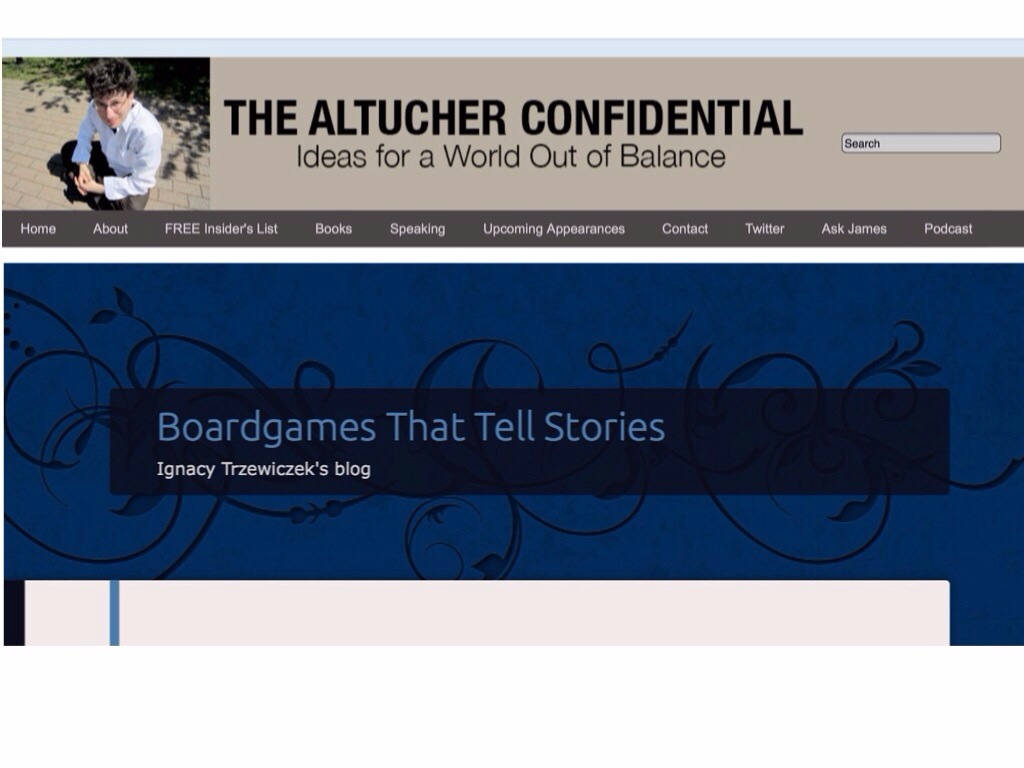 Once in a while I look at a blog and I go, "Hmm…" So I bookmark it.
Occasionally I check on it and see how it has changed and ponder what thoughts it gives me.
I encounter a lot of blogs that go in and out of my cyberspace and are never thought of again.
As my wife says, "Any idiot can write a blog." But then again, can an idiot write a blog that makes you want to go back and see what they have to say? Can an idiot write to inspire or move you in a specific direction? I don't think so; but, some bloggers can.
A couple of these blogs for me are:
Altucher Confidential
and
Boardgames That Tell Stories
Each is very different from the other, but each gives me a place to reflect on facets in my own life. Ignacy's talks about game development, the process behind their development, and his thoughts and experiences in the industry. James's is a little social commentary, personal reflection, motivational, and therapeutic advice- a sophisticated and multidimensional type of 'Dear Abby…' if you will.
Both have a lot of thought, experience, and work behind them. I'm sure if you contacted each one about their blog, they would respond modestly, 'it was nothing.' As you read them, though, you should realize that the work was done behind the scenes; as Ignacy was play testing Robinson and as James was walking to his office or conducting a seminar. Each gives a lot of themselves to their blog and if you are willing to give them time- you will reap equally as much. I must insist you overlook Ignacy's occasional misuse of English- he isn't a native English speaker. Truth be told, his writing is probably better than most native speakers.
Please check their blogs out and maybe you might see a different facet of yourself.